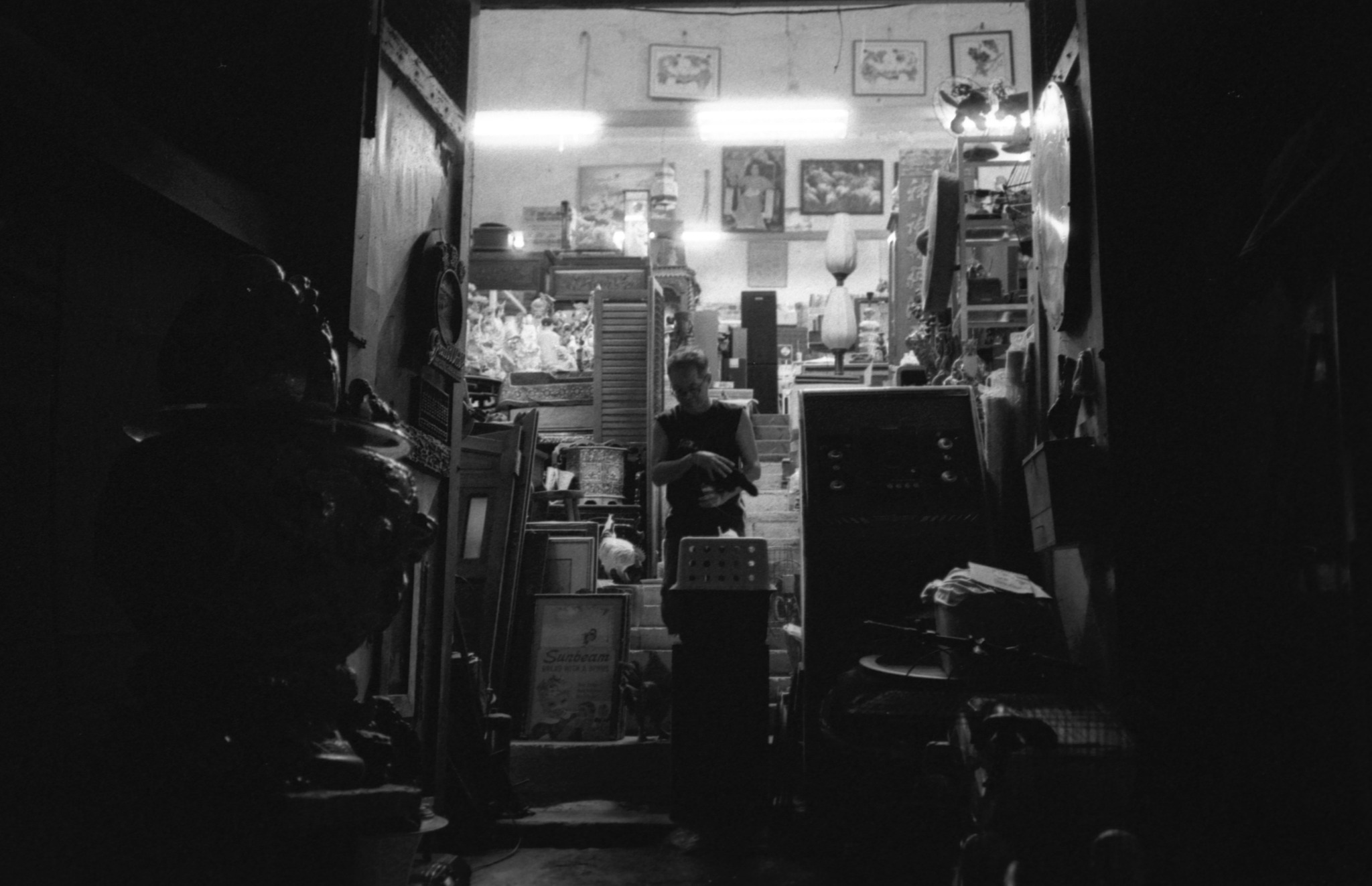 ← Back
A timeless capsule in the jungle: Meet Alan Wong of Junkie's Corner
Fancy vintage items? Alan Wong is your man. At 2 Turf Club Road, he refurbishes unwanted items like old vintage fans and amplifiers to be sold much cheaper.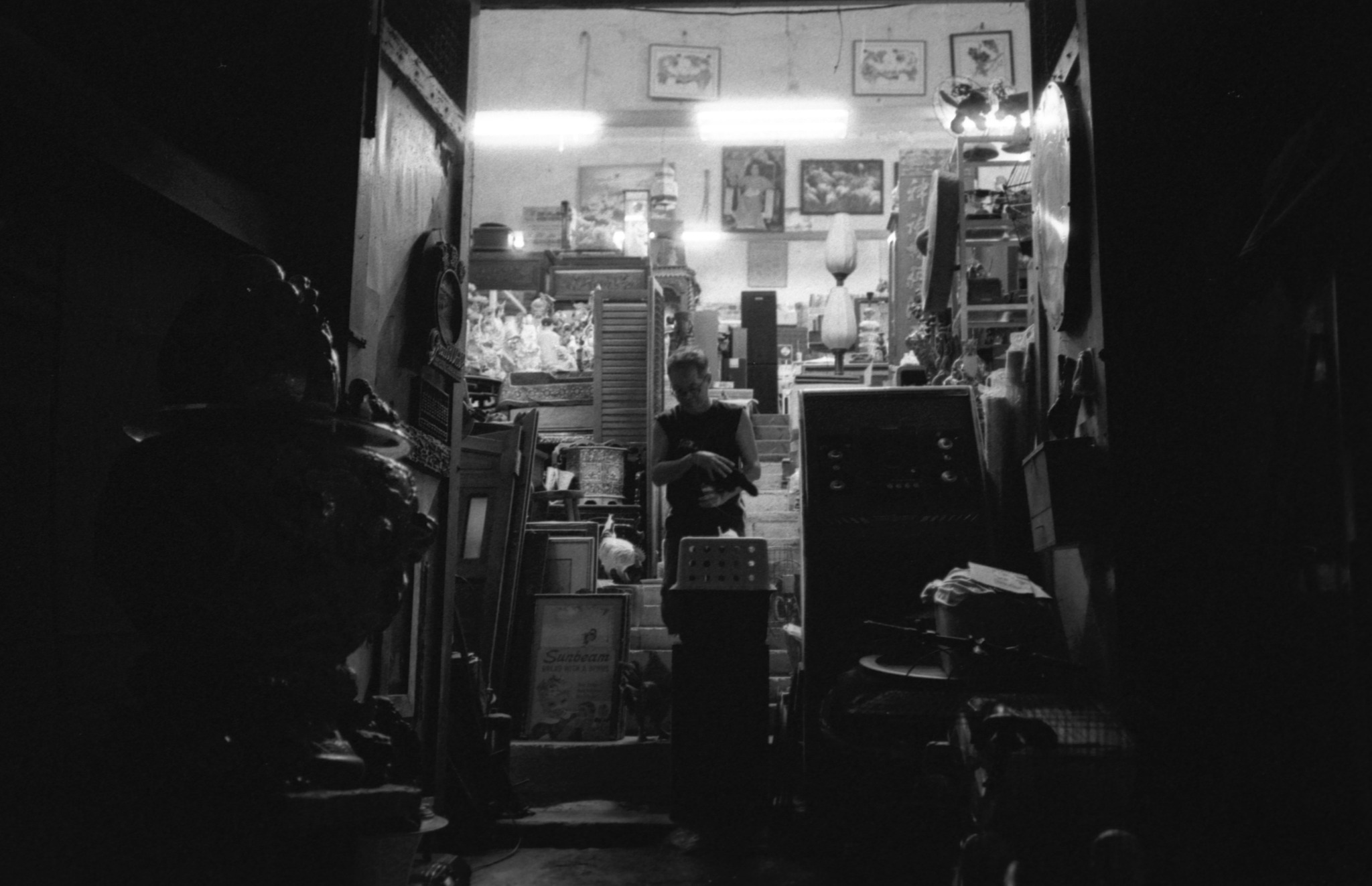 No one would expect themselves to stumble upon a collection of vintage in a jungle, especially not one hidden away deep inside Bukit Timah. It's hot, humid and full of pestering insects. Who would want to sell things here?
Meet 57-year-old owner of Yasashii Trading, Alan Wong. With a fiery passion for vintage and antiques, he resigned as a technical officer seven years ago to open up two vintage thrift stores every day of the week since July 2017.
Working every day of the week from running 2 shops and delivering. He is like a bat awake in the night, even as late till 11pm with no streetlights in sight. (Photo: RP/Natasha Nadir)
With his batmobile of a van, this Batman prefers the jungle than a cave. He's the only vendor awake at 11pm at his biggest store on 2 Turf Club Road.
This stretch called Junkie's Corner has 4 different shops, Alan being one of the five. Alan being the store in the middle, he refers to his friends in the shops next door as his neighbours and good friends – almost like family.
A 15-minute walk from the nearest MRT station; Sixth Avenue, Junkie's Corner rarely has large crowds. However, due to his wide variety of items and jovial personality, Alan Wong has loyal customers who frequent his store for rare and vintage items.
It is predicted that the furniture resale market will increase 70 percent from 2018 to 2025. Items that are not in good condition might end up in the trash. Restoring and refurbishing furniture items is also something that Alan does.
Alan explains: "Usually, if there is furniture with broken parts we need to replace them. If they are cracked we have to glue and join it back and if chair joints give way we have to put them back in position and fix it. For refurbishing we have to sand down the items before we refurbish."
The shelf is filled with a variety of glass bottles, cups, plates, and other antique items all from different eras. (Photo: RP/Natasha Nadir)
Love for the vintage
Inspired by Cash Converters: a business that buys and sells pre-owned items, Alan Wong felt that he could make his passion for a living. With determination and fervour, he opened his two thrift stores.
Each and every item that he has collected is unique and has its own historical significance. Some of the items that he has collected even go way back to the 1930s. Value can be subjective, especially when it comes to vintage or antique items.
But to Alan, even if the items may not be valuable to some, he would still keep the ones that he likes.
Only very few items he keeps that are not for sale; his favourite stereo system from the 70s and his chickens, he jokes.
"Things that catch my eye, like old paintings, furniture and especially audio systems, would come home with me!" he says excitedly.
The 57-year-old lived through the 70s, 80s and 90s. Finding and selling vintage items like Walkmans, cassette tapes and even old paintings were his way of travelling back to the past.
During his 13 years of being a technical officer, he knew he wanted to do business. For 18 months, he worked as a mechanic until he found a place in Bukit Merah to finally set up shop.
It was the year 2000 when Alan finally opened his first hardware store at 123 Bukit Merah Lane 1. With a big interest in audio systems, he started to find unwanted audio devices that could be repaired.
For someone with no education in the field, he asked around and took the time to learn everything all by himself. He studied hardware for 3 years in his own time to repair items he knew could be fixed.
"It was a lot of trial and error, but I did what I could with all I had," explained the 57-year-old.
He named his newly-founded company Yasashii Trading because Yasashii meant 'easy and kind' in Japanese. He wanted his store to be the kind of place where his customers could go to trade, sell or buy willingly.
Hidden in the corner surrounded by greenery, Junkie's corner is located at 2 Turf Club Rd. It has been there for 19 years. (Photo: RP/Natasha Nadir)
He opened his Turf Club store in July 2017. It was a much bigger space to store and refurbish items he finds that can be resold. It's even his favourite store ever, making the news of Land Transport Authority (LTA) announcing the redevelopment of the land to build more Mass Rapid Transit (MRT) stations.
A new home
In September 2022, LTA announced the development of Bukit Timah MRT station on the Turf City land. They will begin in December 2023. SLA and Urban Redevelopment Authority (URA) no further extension of the lease after two consecutive 18-month tenancy renewals were granted till December 31, 2023.
"As part of the planning process, detailed technical studies such as environmental and heritage studies are being carried out to ensure that any development will be sensitively integrated with its surrounding environment," stated URA in the press release.
While Alan has no current plans or ideas to move yet, he knows that he needs a warehouse to store all his things. Still hoping to extend the lease, he has yet to find a place before getting ready to move everything in June 2023.
After the announcement by LTA on the development of the Bukit Timah MRT station being confirmed to commence in December 2023, the stores along Turf Club Road will be forced to move their businesses to another location.
This redevelopment of land has been thoroughly planned to make way for new transport lines, without damaging the surrounding environment, which is a major element of Turf Club Road. Filled with deep forested areas of greenery, the place will not be damaged during redevelopment, as mentioned by URA in the press release.
Despite the tenancy of the place being renewed for 18 months twice, Alan does not have any current plans to move his business elsewhere. Other than getting a warehouse to store all his things, he does not have a fixed place to continue his business after moving from Turf Club Road.
Moreover, all 4 owners of these stores along Turf Club Road sell a variety of different items and do not shy away from sharing their customers with one another, depending on which store best caters to the customer's needs. They are always prepared to help each other and have built a strong bond, which is expected to make this relocation a hard pill to swallow.
Alan has no expectations for the things he would buy, he buys from customers who want to give away their treasured antiques of a recently passed loved one and takes into account how he could fix them back up to shape.
For a man with great pride in his work, he humbly smiles and says he feels "satisfied when someone appreciates your efforts".
Alan has a wide collection of items, which will require a lot of space and funds to store in a warehouse. Given these factors, Alan still hopes that the lease would be extended for his business as he has built a business close to his heart and valuable to his loyal customers. Pending any changes, Alan is expected to begin moving everything by June 2023.
Alan Wong amongst his antiques and vintage items that he has been collecting throughout the years. (Photo: RP/Natasha Nadir)
The other 3 sell various items different from each other and would usually guide customers to find what they need amongst their neighbours. They don't fight over the audience and willingly help out each other moving heavy furniture or helping to repair something.
With no expectations for the things he would buy, he buys from customers who want to give away their treasured antiques of a recently passed loved one and takes into account how he could fix them back up to shape.
For a man with great pride in his work, he humbly smiles and says he feels "satisfied when someone appreciates your efforts".
One man's trash is another man's treasure
Feeling like his career could be like one of a karung guni, it does not stop him from buying someone else's 'junk' to refurbish into something valuable. Alan often gets the items he refurbishes locally.
However, this is his passion turned career. Maybe to some it's being a hoarder, but to Alan, it's special to be able to find items that aren't manufactured or sold anywhere else anymore.
Stepping into his shop, there are soda bottles with actual soda untouched and unopened inside from as early as the 70s. Coca Cola being brown turned orange – he kept it this long!
He feels as if he's keeping memorabilia from the past that cannot be found anywhere else – like travelling back to the past. Surrounded by so much of the past and the ambience of the jungle, he feels like he steps out of Singapore into his own world just for a while every day.
Vintage and antique electronic items ranging from the 1950s to the early 2000s. (Photo: RP/Natasha Nadir)
"It's my favourite place to be in, in my own world and fresh air I can never get tired of," says Alan.
In his shop facing the jungle, he creates his own world of vintage. Uncovering so many untold stories and everlasting memories, he creates new stories for the items he fixes.
Alan also runs a Carousell account to sell more of his popular finds and repairs to a more niche market online.
While it's more convenient with technology, Alan prefers when sellers and customers surprise him with new finds that aren't found anywhere else – like handmade antique pottery and working gramophones! The niche audience pays for more expensive finds, while his stores sell items for cheaper prices.
Being an outspoken and extroverted shopkeeper, he gets even more excited seeing youths visit him.
An avid vintage collector Orange frequents Junkie's Corner often to find new things to add to her collection at home. Living all the way in Tampines, she visits 2 Turf Club Road almost every weekend to enjoy the greenery of the jungle and see what else is new.
"I love coming here every weekend – it's like going into a new world outside of Singapore," exclaims Orange.
Unique items like vintage glassware to late princess Diana framed portraits. (Photo: RP/Natasha Nadir)
Passion will always find its home
With hopes to extend the lease of Junkie's Corner again, Alan feels disappointed to say goodbye to this place he calls home more than work.
It might be a struggle to find a warehouse but he has no regrets. He believes he found his calling even though it took awhile to get to where he is now. Wherever he goes next, he never forgets why he does this in the first place.
His happiness lies in the refurbishment of old items and finding a way back to the past from the present.
"You can't do something if you don't have the passion for it. Find your passion!" exclaims Alan.